Spark Motion is a leader in motion analysis technology on the mobile platform. Spark Motion was built out of necessity by performance and healthcare professionals in the field who knew there was a better way to work with athletes and patients using the latest tablet technology. The Spark Pro app with Cloud by Spark Motion is the only mobile motion analysis system specifically designed to be powerful enough for industry leading professionals and organizations, yet accessible to all performance coaches, trainers and medical practitioners.
David W. Gottfeld CAFS, FAFS
CEO, PRESIDENT AND FOUNDER
Dave has spent the past 25 years as an injury prevention and reconditioning specialist. He has been on an educational journey seeking out and studied under many of the greatest minds in the fields of biomechanics, and injury prevention. He has directly studied  under Gary Gray an internationally acclaimed physical therapist, Lenny Parracino, the soft tissue therapist for the Los Angeles Clippers, Vern Gambetta an international coaching educator, and Bill Knowles, a return to competition specialist. Dave's years of experience in identifying compensations in human motion in addition to his collaboration with his co-founders were the perfect storm for the creation of Spark Motion.
Rob Harris MS, CSCS, PES, USATF-1
CO-FOUNDER DIRECTOR, SPORTS PERFORMANCE
Rob met Dave Gottfeld in 2009 and they soon realized the collaboration between Rob's video capturing experience and Dave's vision of a portable, touch-screen motion analysis device could be groundbreaking. Rob is a former marine and committed and passionate sports performance coach blessed in having had the opportunity to work with some of the world's top athletes. Over the past 20 years Rob's career has spanned positions from a personal trainer to a coach at Train 4 The Game to a Director at Velocity Sports Performance to his current position as an Olympic strength coach at the University of Arizona. Rob has over 10 years of extensive experience in using motion analysis to enhance performance in elite athletes.
Packy Kennelly, MS PT FAFS
CO-FOUNDER DIRECTOR, HEALTHCARE SERVICES
Packy has been a Physical Therapist in outpatient orthopaedic/sports since the late 90's. He has worked for The United States Army at Walter Reed and Dewitt hospitals, as well as in private practice. Packy credits his experience with the GIFT Fellowship in 2007 with re-energizing his career and his approach to patient care. It is also where he met his professional colleagues and Spark Motion collaborators Dave Gottfeld and Nick Studholme. Packy describes the tablet based Spark Motion as, "The future of assessment, patient education and documentation".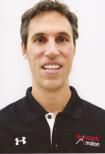 Dr. Nick Studholme D.C., C.C.S.P., C.C.E.P
CO-FOUNDER DIRECTOR, SPORTS MEDICINE
Nick is an internationally recognized expert in Chiropractic medicine that has been in private practice in the Denver, Colorado area since 2000. His extensive experience has granted him the opportunity to teach both nationally and internationally on a variety of topics which include Emergency Procedures for the Sideline Physician, Functional Medicine, Soft Tissue Treatment and Functional Taping, and Injury Prevention. In 2007, Nick attended a year-long study program called "GIFT" at the Gray Institute which is where he met Dave Gottfeld and Packy Kenelly. Their different backgrounds, abilities and shared passion for learning began a 3 year exchange of ideas that played a major role in the ground up development of Spark Motion.